Join the Ninja Skillz E-mail List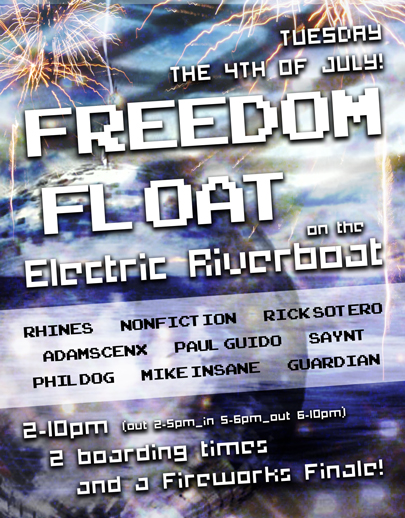 Celebrate Ninja-Pendants Day with us!
Read about the history of Ninja Pendants Day
____________________
*!!_UPDATE_!!*
____________________
It is HIGHLY recommended to carpool.
The peninsula on the 4th is packed!
Leave early to get there early!
You will want to be parked by 1:30, and to the boat by 1:45...
We will have music going non-stop from 1:45 thru till 10pm!
Get Ready...
cuz we're gonna blow up the 4th Bigtime!
Also, you can take the Ferry across from the PCH! It's probably way easier, and will take you directly to where the party boat is docked!
check it out below!
Everything is good to go for Tuesday! Get there EARLY!
======================
____________________________________________________
We're gathering together with our friends in Orange County to create an epic boat adventure to celebrate the day when Ninjas helped the American Revolutionaries win independence from the british.
Newport Beach on July 4th is absolute INSANITY! Join us for this, our Ninja-Pendants day!
For Pictures:
http://www.angelalouise.com
For Directions:
http://www.angelalouise.com/mapdirections.html
9 DJ's!
Full Bar!
Watch the Fireworks on the Water!
2 docking times!
-boat leaves at 2pm and returns at 5pm
-docked from 5-6pm for changeovers, food, etc.
-boat leaves at 6pm and returns at 10pm
$15 cover
-you will get a wristband
-we will reach capacity
-from 5 till 5:45pm (when boat is docked for an hour) you can leave and return to the boat (without paying again)
-after 5:45pm, new people will be allowed access up to the boats capacityyou are not guaranteed a spot unless you return before we admit new paying partygoers
you are now aware of this!
limited capacity!
i mean it... the boat will get full!
first come, first served...
THE LINEUP
____________________________________________________
rhines - nonfiction - rick sotero - adamscenx - paul guido - saynt - phil dog - mike insane - guardian
brought to you by:
INNERFLIGHT
-
FORM
-
FRIENDofaFRIEND
-
NINJA SKILLZ
-
11:11
-
131
June 27, 2006